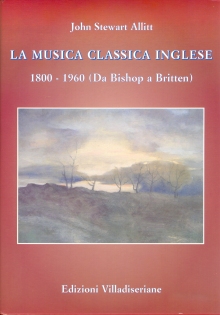 Edizioni Villadiseriane 2006
Stephen Cross in THE TEMENOS ACADEMIC REVIEW
…… At the heart of this book is a vision of the music of the British Isles as essentially unified and possessing a very definite and distinct character of its own. This tradition, closely linked to the landscape and atmospheric conditions amongst which we live, is essentially pastoral and often romantic; its spirit is caught to perfection by the cover-illustration used for the book, in which a few bare trees stand against the shifting light and clouds of a landscape which could be almost anywhere in the British Isles, yet nowhere else. This tradition, deeply spiritual in its essence, though not necessarily Christian (Holst, Bantock and Bax were interested in Eastern thought), and yet not devoid at times of a certain humour and rubustness, binds together the music of the nineteenth and twentieth centuries. It is, Allitt contends, like a compass which points towards the true, inner nature of the peoples of the British Isles. It is what we find in the music of Elgar, Holst and Vaughan Williams, indeed it is what gives their work its characteristic quality; but it is present too in the comparatively neglected and sometimes denigrated composers whose music this book sets out to rediscover.
… For the Italian reader this book will open up a treasure trove of music still largely unknown aside from a few famous names, yet no longer difficult of access (Allitt has concentrated on describing music currently available on CD). But for the English reader too this is a stimulating book; the fruit of a deep and extensive musical culture, it is often original in its discoveries and creative in its fresh perceptions.
Stephen Hastings su MUSICA
….. John Allitt non si sente obbligato a nascondersi dietro quella maschera di distacco indossata da molti musicologi e i suoi sentimenti nei confronti dei quaranta compositori trattati sono assolutamente palesi. L'entusiasmo con cui si esprime su decine di composizioni tornate alla luce grazie all'intraprendenza di etichette con la Chandos e la Hyperion è spesso contagioso…
… il libro offre una quantià sbalorditiva di informazioni su tutta una serie di musicisti pressoché sconosciuti in Italia: quindici pagine per esempio sono dedicate a Hubert Parry, ventitre a Granville Bantock e a Edmund Rubbra. Scopriamo la sorprendente carriera italiana di Michael Balfe, la doppia vita amorosa di Arnold Bax, la bellissima intesa artistica che esisteva tra Vaughan Williams e Holst, e percepiamo in ogni capitolo quell'amore profondo per la vita rurale che Allitt condivide con gran parte dei compositori raccontati.